ERROR: Query=select TITLE,NE_ID,ICON,POSTED_ON,CATEGORY,TYPE,EXPIRE_DATE from (select TITLE,NE_ID,ICON,POSTED_ON,CATEGORY,TYPE,EXPIRE_DATE FROM WASA_LATEST_NEWS where (EXPIRE_DATE is null or TO_DATE(TO_CHAR(EXPIRE_DATE, 'MM/DD/YYYY'),'MM/DD/YYYY') >= TO_DATE(TO_CHAR(SYSDATE, 'MM/DD/YYYY'),'MM/DD/YYYY')) ORDER BY ROWNUM Desc)
Useful Links
ERROR: Query=select LINK_ID,LINK_NAME,LINK_URL,LINK_DATE,LINK_VISIBLE from ( select LINK_ID,LINK_NAME,LINK_URL,LINK_DATE,LINK_VISIBLE,LINK_SERIAL from wasa_links where LINK_VISIBLE='Y' union select LINK_ID,LINK_NAME,LINK_URL,LINK_DATE,LINK_VISIBLE,LINK_SERIAL from wasa_links where LINK_VISIBLE='Y' and (LINK_SERIAL is null) order by LINK_SERIAL ) where LINK_SERIAL<=10


DHAKA WATER SUPPLY AND SEWERAGE AUTHORITY
Dhaka WASA (Water Supply & Sewerage Authority) was established in the year 1963 as an independent organization, under the East Pakistan ordinance XIX. In 1989, the drainage system of Dhaka city also handed over to DWASA from DPHE. Again in the year 1990, Water, Drainage & Sanitation service of Narayangonj city handed over to DWASA.

Based on the tremendous geographical expansion and population growth over the last two decades, DWASA's activities has been reorganized by Dhaka WASA Act, 1996 and according to this act, DWASA it is operating as a service oriented commercial organization. Now, the jurisdiction of Dhaka WASA is more than 360 Sq. km and the population is about 125 million.
At present the service area of DWASA extended to Mirpur and Uttara in the North and to Narayanganj in the South. For better operation, maintenance and customer care, the total service area of DWASA is divided into 11 geographic zones, which includes 10 in Dhaka City and 1 in Narayanganj. There is an office for each zone and this office carries out the responsibilities of engineering operation as well as revenue activities. So that respected consumers can obtain all possible services and counseling from one place.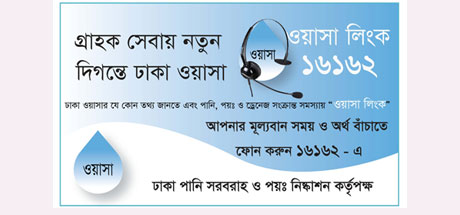 Written Exam for the post of Sub Asst. Engr. (Civil/Mech./Elec.) will be held on 28-02-2014 at 10 am in Dhaka Polytechnic Institute, Tejgaon, Dhaka. If any query, pls contact at Dhaka WASA, Kawranbazar Office